ABOUT US
Saskatchewan Women In Policing is a non-profit organization established to offer community and guidance to women in law enforcement. We support, connect, and mentor law enforcement personnel to overcome challenges and explore new growth opportunities.
01.

Leadership

We are a group of women leaders determined to help other women enter positions of power and progress in their careers. Become a member and learn how to move forward in your line of work.
02.

Empowerment

SWIP works towards empowering women to break barriers and reach new heights of success. We want to forge the path of new growth opportunities for women who aspire to advance their careers in law enforcement.
03.

Inclusion

At SWIP, we focus on helping women from all diverse backgrounds to survive and thrive in their field of work. We want women to feel confident and competent to take on leadership roles.
#Strongertogether
Our Story
In the Fall of 2020, Sgt. Lisa Simonson reached out and brought together 16 women police and executive leaders from across Saskatchewan's policing community to determine if there was an appetite for such an organization in our Province. There was overwhelming support to develop an organization such as this and one that was long overdue. As a result, a group of eight women police leaders from across the province came together and founded SWIP: Lisa Simonson, Tonya Gresty, Andrea Vogel, Laurel Marshall, Kimberly Stewart, Marlie Frei, Melinda Mintenko and Danielle Stephany. This newly formed interim Board of Directors set out to register SWIP as a non-profit organization, create our mission, vision, bylaws, constitution and to market SWIP on a provincial and national stage.
SWIP would like to acknowledge the support and mentorship provided by our sister organizations, Alberta Women in Public Safety and British Columbia Women in Law Enforcement, in providing us guidance as we worked through developing our non-profit organization.
SWIP will facilitate the mentorship of women across the province, advocating for the advancement in leadership through unified support and professional development.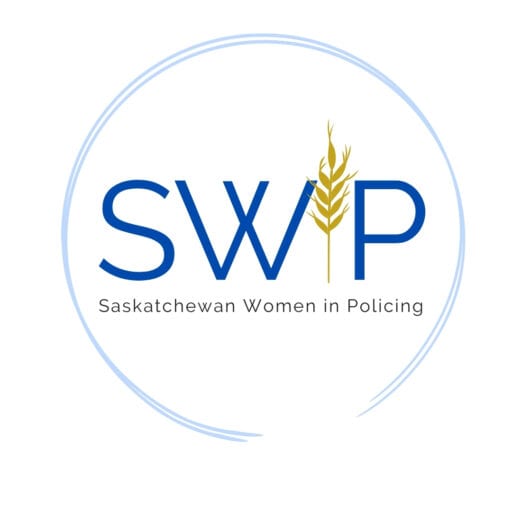 Circle Element: The circle represents the power of the female, a symbol for completeness, wholeheartedness and mother earth. It represents infinity, being complete and being whole. As women, our lives are interconnected and intertwined. We do not compartmentalize as much. Everything is related.
Color: Blue often symbolizes serenity, stability, inspiration or wisdom.
Open Ended Circle: The idea of inclusiveness. It's the opposite of a click or selected group.
Font Choice: The W (for Women) overlaps which again symbolizes inclusiveness.
Grain of Wheat: Symbolizes where we live, love and make our home.
Our Corporate Partnerships