The presence of women in policing in Canada is far greater than in many other countries such as the United States. However, law enforcement in the country still tends to be run predominantly by male officers.
Research and history have disproved the notion that women aren't suited for law enforcement. For the most part, women tend to have high levels of interpersonal communication skills, which translates into more effective practices in the field.
For these reasons and many more, the Saskatchewan Women in Policing (SWIP) nonprofit organization was created. The newly conceived group of eight dedicated female police members from across the province aims to support and advance Saskatchewan women in the policing community, with an emphasis on increasing women's representation in leadership roles.
These efforts are carried out by providing the opportunity for women in policing to connect, access female-centric training, as well as mentorship, and build strong professional relationships.
"SWIP got its inspiration from other such sister organizations in British Columbia and Alberta who have been able to assist us in this development," stated Constable Melinda Mintenko with the Weyburn Police Service. "So under the leadership for us of our President Lisa Simonson of the Prince Albert Police Service. She had a vision, which I think many of us had behind the scenes but never tried to do this, she put a group of us together and started this new SWIP."
Their first interim board meeting was held in Saskatoon virtually on November 20, 2020, and SWIP became a non-profit organization in December 2020.
Aside from their president they currently have seven other board members that are from different police organizations such as Inspector Tonya Gresty from the Saskatoon Police Service who is their Vice President, Sergeant Kimberley Stewart from the RCMP is their Treasurer, Staff Sergeant Laurel Marshall from the Regina Police Service is the Professional Development Director, Staff Sergeant Marlie Frei from the Moose Jaw Police Service is the Membership Director, Constable Andrea Vogel of the Saskatoon Police Service is the Promotion/Marketing/Social Media Director, Constable Danielle Stephanie from the Estevan Police Service is their Events Director, and Constable Melinda Mintenko from the Weyburn Police Service is the SWIP board's Secretary.
"I think it's really important that this encompasses all of the agencies within the province of Saskatchewan," told Constable Danielle Stephanie with the Estevan Police Service. "From municipal agencies, RCMP, we have sheriffs, conservation officers, and we have at least an interest from the border services. So it's nice to have so much interest and a grouping of quite a diversity of services within the province."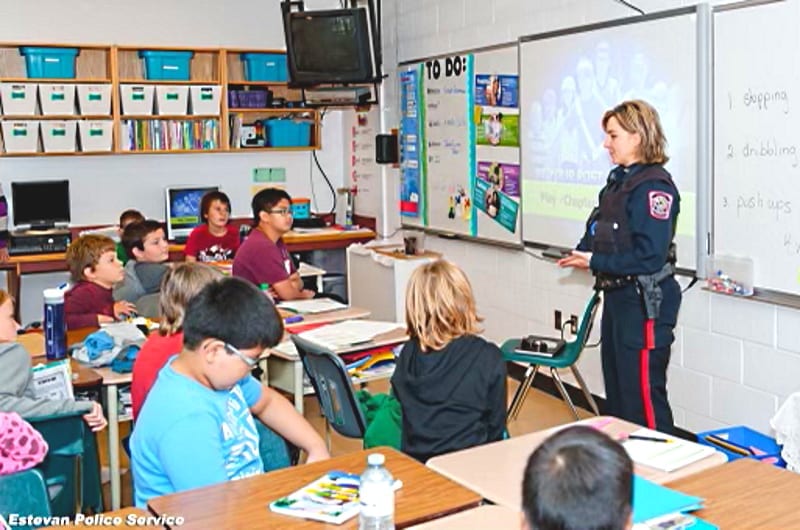 The SWIP is an inclusive group that includes cis female, trans women, genderqueer women, and non-binary people. However, the organization will also welcome sworn male allies into membership, and they are working towards a format that will include the many valuable civilian colleagues of the policing community.
Currently work is being done on a communications strategy and website development. In the very near future, you can expect to hear more about membership opportunities. SWIP membership will be developed with the benefits of an inclusive social and professional environment while maintaining focus on the goal of attaining a female-centric space for career development.
"We are planning on holding a conference in 2022. So this would be an event that members would be able to attend and we would have guest speakers. It's more of a mentorship program that we are doing that will allow women to get together and share their experiences and it would be a networking forum for them. So we're really excited to be able to hold this conference hopefully in 2022," Constable Stephanie shared.
The encouraging momentum toward creating a more balanced public safety force is fueled in part by a growing appreciation of certain unique and valuable professional qualities that women often bring to law enforcement. Such qualities are believed to enhance the ability of law enforcement agencies to make a positive impact on the communities they serve.
There is also a new generation of women being promoted to law enforcement leadership and command roles, with a growing number of police chief positions across the country being filled by women.
"We're seeing more and more women enter the police force and the exciting part is more women that are entering into leadership roles," expressed Constable Stephanie. "I think it's valuable for the agencies to have that diversity of different ideas and leadership showing that we can make our way through this male-dominated industry regardless."
Although women in law enforcement must meet the same physical, academic, and psychological standards as men, stereotyped expectations of behavior still exist. This quite often means that female officers find that they are having to prove themselves constantly.
"We want the membership and support to be for everybody no matter who you are," told Constable Mintenko. "If you look at places like BC Women in Policing or Alberta Women in Law Enforcement they were able to take this COVID time and actually do a Canadian virtual conference. So every so often they have various speakers from all around the world that are providing stories and education to their membership. I think that is one thing that we would love to do for Saskatchewan and not only that but also link in with the other provinces. There is a bigger organization called the International Women in Policing. For me as I sat back and thought about my 20-year policing career I always felt like an organization like this was missing. So when I got the call from Lisa about this I was ecstatic because I sat so long wanting to do this and I just never did it. I am so thankful that we have so many different female officers of various different ranks. It is really empowering to see that there are a lot of women already in leadership roles. And no matter what your rank is everybody still treats you like everyone else. Anybody can lead from any rank and I think that's important for people to know. You can be a leader in your own way no matter what your profession is. I think people can do great things and have wonderful ideas and that alone through this organization will empower people as they continue to move forward."
We will continue to update you on the Saskatchewan Women in Policing as more information becomes available. If you would like to be one of their members or would like to assist them in any way please reach out to any of the current existing board members listed above in this article.